The oil market showed signs of tighter supply as key gauges of its health rallied, although concerns remain over a resurgence in coronavirus cases in China and the U.S. Futures in London and New York gained, while Brent for August was trading above the September contract, a sign of scarcer supply in Europe's physical market. Oil prices in the North Sea and Russia has soared in recent days, while the amount of crude stored on ships is falling. "The physical market is strong," said Ben Luckock, co-head of oil trading at Trafigura Group Ltd. "There's good demand for North Sea crude and most of the regional overhang of floating storage has cleared."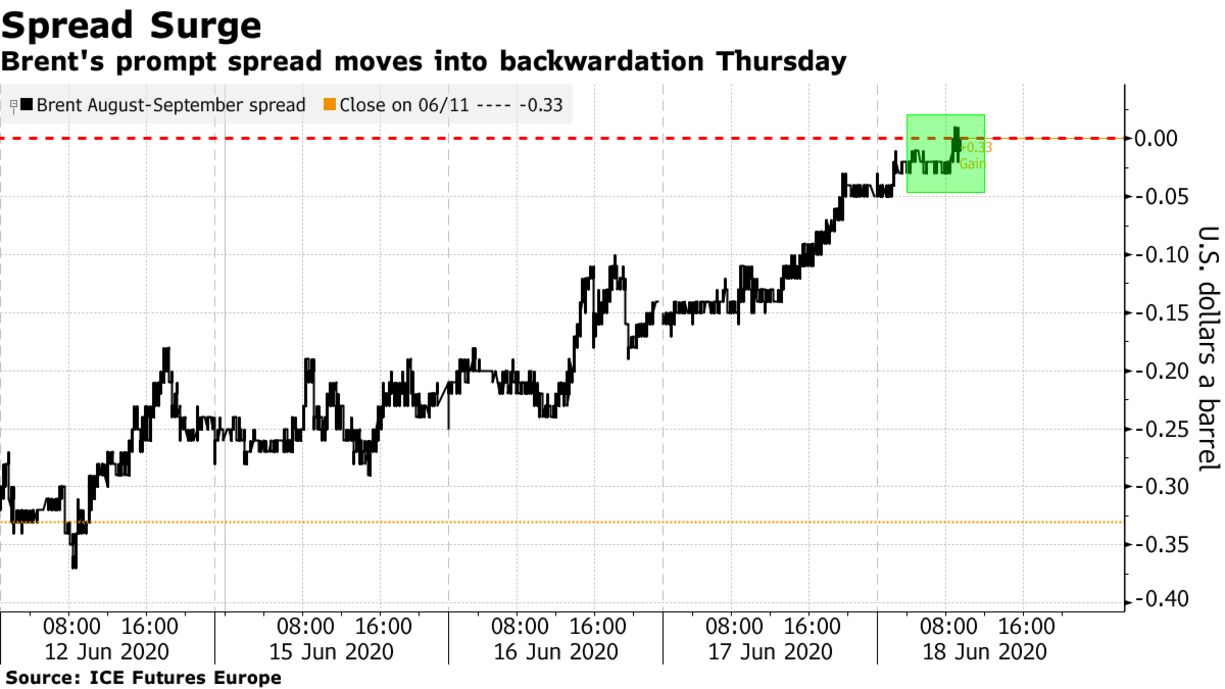 Despite the strength, there's still plenty for traders to be concerned about. Beijing is fighting a new outbreak of Covid-19 and has curbed travel to the city, while U.S. states including Texas reported a jump in cases. Crude is steadily recovering from its rout earlier in the year as consumption picks up and the world's major producers slash output. Oil trader Vitol SA says consumption is recovering by about 1.4 million barrels a day each week, while Trafigura Group estimates global demand is at about 90% of normal levels. OPEC and its allies will discuss compliance with output cuts on Thursday.
PRICES:
West Texas Intermediate for July gained 0.7% to $38.21 a barrel as of 10:14 a.m in London
Brent for August gained 0.9% to $41.06 a barrel
The slow resumption of flights will constrain jet-fuel consumption, and high unemployment will restrict gasoline use, the Organization of Petroleum Exporting Countries said Wednesday, in its latest monthly report. The OPEC+ alliance will hold an online meeting on Thursday to review the impact of the group's historic production cuts, which have been extended through the end of July.