Newly diagnosed cases of Covid-19 and other indicators of the pandemic's spread soared in hot spots across the U.S., driving city and state officials to consider slowing or reversing reopening plans. Cases are surging in Texas, Florida, Arizona and in California, which on Tuesday broke its record for new cases for the fourth day in the past week. Even in New Jersey, where numbers have been falling, Governor Phil Murphy warned that the transmission rate is "beginning to creep up."
Coronavirus cases in the U.S. increased by 35,695 from the same time Monday to 2.33 million, according to data collected by Johns Hopkins University and Bloomberg News. The 1.6% gain was higher than the average daily increase of 1.3% the past seven days. Deaths rose 0.7% to 120,913.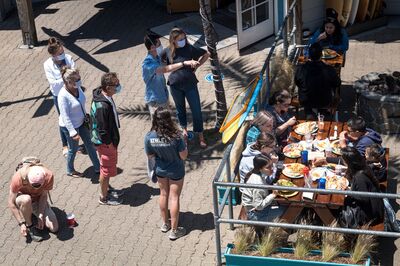 Arizona also broke its daily case record, adding nearly 3,600, according to tallies released Tuesday, bringing the total to 58,179. The state also reported 42 deaths, raising the toll to 1,384.
In Florida, local leaders hurried to react to daunting statistics. Palm Beach County — where President Donald Trump makes his official residence — became the latest jurisdiction to mandate masks to fend off the surge, with county commissioners voting unanimously to approve the measure Tuesday.