Exxon Mobil Corp. and Koch Industries Inc. withheld critical information about the impact of fossil fuel use on climate change for decades, Minnesota Attorney General Keith Ellison said in announcing a lawsuit against the companies. The suit, which also names the American Petroleum Institute, alleges the three violated the state's Consumer Fraud Act by issuing misleading statements about global warming and engaging in a 30-year "campaign of deception" even though they understood the threat as early as the 1950s.
"They didn't just not tell the truth," Ellison said at a news conference livestreamed on Twitter Wednesday. "They actually misled you."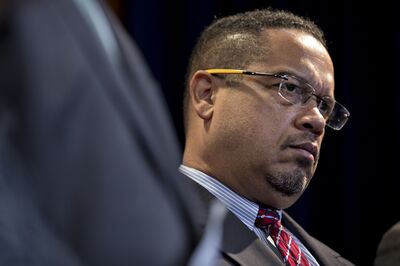 Minnesota's lawsuit "is part of a coordinated, politically motivated campaign against energy companies" that wastes "millions of dollars of taxpayer money" without significantly alleviating climate change, Exxon spokesman Casey Norton said. He said the company would defend itself against the "baseless" suit and "continue to invest in efforts to reduce greenhouse gas emissions while meeting society's growing demand for energy."
The American Petroleum Institute said in a statement that "the record of the past two decades" shows the industry has provided U.S. consumers with "affordable, reliable" energy while significantly reducing carbon emissions. "Any suggestion to the contrary is false," said Paul Afonso, API's chief legal officer.
A Koch Industries media contact didn't respond to a website message seeking comment on the suit.