Wall Street's obsession with electric vehicles is touching off a new round of public listings and helping clean-tech companies to forge partnerships with powerful allies. Proterra Inc., which makes electric buses and battery systems, on Tuesday said it will go public through special purpose acquisition company ArcLight Clean Transition Corp., the latest in a wave of deals between automakers and SPACs. It comes as Lucid Motors Inc. has been in talks to go public via one of Michael Klein's blank-check companies, according to people familiar with the matter.
Meanwhile, Plug Power Inc. and Renault SA are forming a venture to build hydrogen-fueled delivery vans.
EV company valuations are soaring as investors hunt for the next Tesla Inc., which saw its market capitalization reach a record $834 billion last week, topping Facebook Inc. The mania has even lifted to eyepopping heights companies with no income to speak of — such as Nikola Corp. and Lordstown Motors Corp. Plug, which in 20 years has never reported an annual profit, is now worth more $29 billion — up from $1.2 billion a year ago.
"It's an extremely hot sector — it's red hot," said Pavel Molchanov, energy analyst at Raymond James & Associates. "Battery tech is becoming more and more efficient, charging infrastructure continues to develop and proliferate and there are many more vehicle models for buyers to choose from."
Read More: EV-Tech Company Proterra to Go Public Through ArcLight SPAC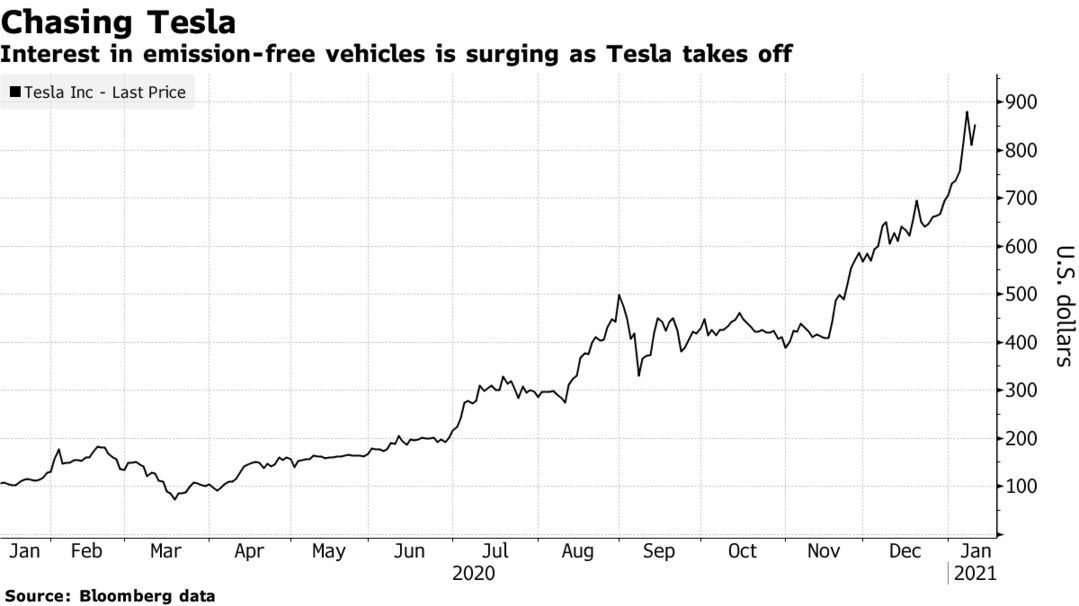 It's not just Tesla that's inspired investors to pile into clean vehicles. Joe Biden's victory in the U.S. presidential election is promising to be a boon for the emission-free transport industry. During the campaign last summer, then-candidate Biden indicated stronger government support for plug-in vehicles as part of a broader push to fight global warming.
"There's this global interest in clean transport," said Katie Bays, managing director of the policy consultancy FiscalNote Markets. "Investment in clean transportation companies is not a fringe issue. It's very mainstream."