The worst of the squeeze on natural gas supplies appears to have passed as spot prices in Oklahoma plunged 99% on Thursday, ending a dramatic rally amid the chaos caused by extremely cold weather in the central U.S. Supply for next-day delivery at the Oneok Gas Transportation hub in Oklahoma traded at $4 per million British thermal units on Thursday, according to traders. That's down from $1,250 on the previous day and in line with prices seen just over a week ago.
The extreme price reversal comes as temperatures rise in Texas following several days of frigid conditions. Data published early on Thursday from state grid operator Ercot showed electricity demand above 50 gigawatts for the first time since Monday, signaling fewer blackouts are needed to keep the system stable. About 400,000 homes and businesses in Texas were without power, according to Poweroutage.us, down from more than 3 million on Wednesday.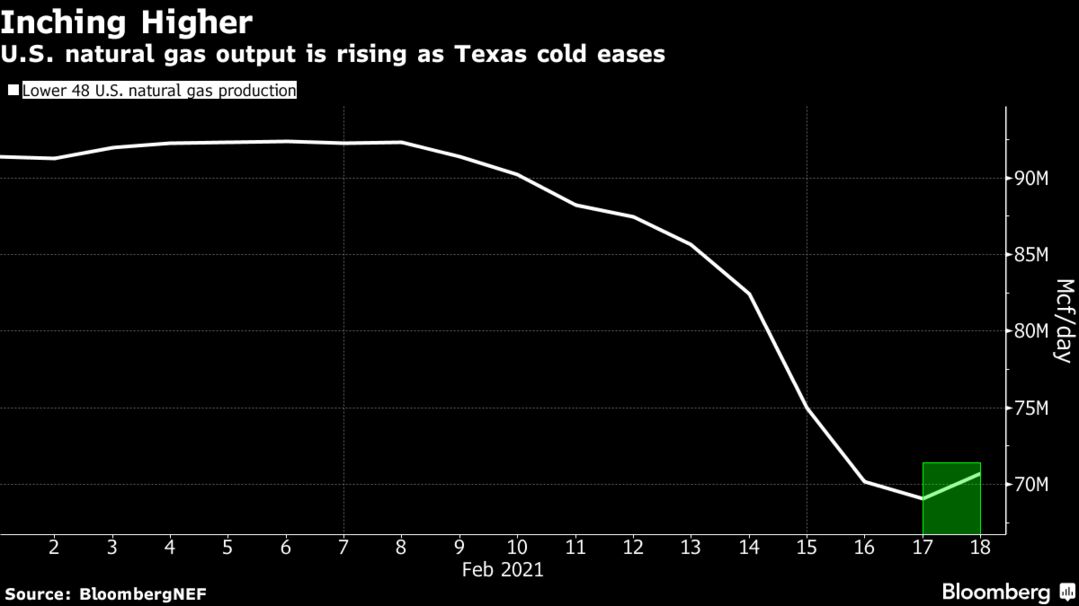 The drop in Oklahoma prices also followed Texas Governor Greg Abbott's order less than a day earlier that gas in the state be offered to state power generators before it can be shipped out of Texas.
Production of the fuel is also starting to recover from the cold, Output from the Lower 48 U.S. states rose 2.4% Thursday, BloombergNEF data show. Supply had tumbled as the polar blast triggered blackouts and caused liquids to freeze inside pipes, forcing wells to shut. Flows to liquefied natural gas export terminals also climbed as power was restored to the Cameron plant in Louisiana.
Natural gas futures fell 4.3% in New York after government data showed a smaller-than-expected drop in stockpiles of the heating fuel for last week. The report doesn't reflect this week's extreme cold, however.
The Oneok system is a key link between Great Plains gas fields and major population centers in the Midwest and East. The network has about 2,400 miles (3,860 kilometers) of pipe connecting to 130 gas fields, six major storage facilities and a dozen interstate systems that carry the fuel to Chicago and other cities.