Oil's record start to 2021 was under pressure from a selloff in bond markets that spooked risky assets. While crude futures declined on Friday, global benchmark Brent has rallied to its best-ever start to a year. Next week, the Organization of Petroleum Exporting Countries and its allies will meet to decide on output levels, with market gauges indicating strength. The market is also facing an escalation in Middle East tension after the U.S. carried out airstrikes in eastern Syria on sites connected to Iran-backed groups. A pocket of Chinese demand may slow, however, after its oil storage neared capacity following a buying spree of cheap crude last year.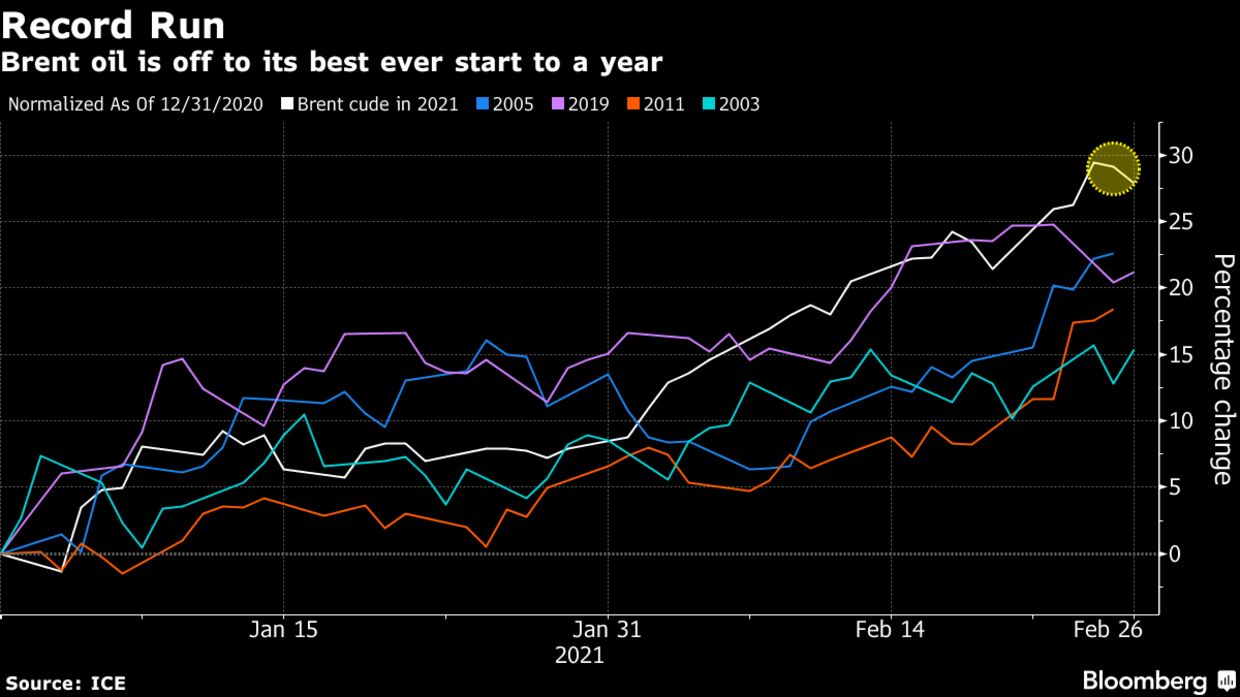 PRICES
West Texas Intermediate for April delivery fell 1% to $62.91 a barrel at 10:20 a.m. in London
Brent for April settlement, which expires Friday, lost 1% to $66.23
SMeanwhile, exports of five key North Sea crudes — Brent, Forties, Ekofisk, Oseberg and Troll — will slump to a five-month low of 780,000 barrels a day in April, according to loading programs compiled by Bloomberg. Bigger declines in shipments may be in store because of work in June on the Forties Pipeline System that will slash output sharply.
OTHER OIL-MARKET NEWS:
The overhaul of a vital oil benchmark drew stiff objection from the exchange that hosts the world's main international crude futures contract.
To see the gulf between China's ambitious carbon-neutral goals and the desire of its companies to maintain breakneck growth, look at Shandong's oil refineries.