To see the gulf between China's ambitious carbon-neutral goals and the desire of its companies to maintain breakneck growth, look at Shandong's oil refineries. The coastal province, a hub for private factories with an economy the size of Indonesia's, issued a notice urging local industry, and especially oil and petrochemical firms, not to carry out plant maintenance between April 15 and Oct. 15 in an effort to reduce the area's awful summer smog. Yet only one of about 10 independent refineries set to do maintenance has agreed.
The refineries, known as 'teapots' because of the shape of early plants, are usually cleaned and renovated during that period in preparation for an annual hike in prices and demand for diesel and gasoline in the second half. The cleaning process tends to release large quantities of volatile organic compounds that are a major contributor to local air pollution.
It's no small contribution. Shandong's oil refineries account for a quarter of China's total processing capacity. Making last-minute changes to maintenance works would raise their costs and may disrupt cash flow for upcoming tax payments in March, industry consultancy FGE said in a note.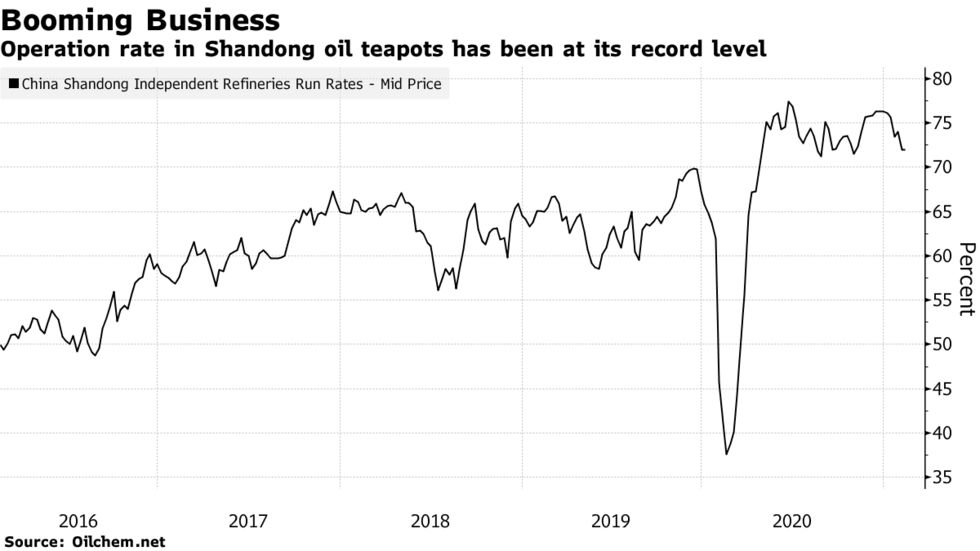 In this case, the private oil refiners are expected to seek an exemption from the government guidance or simply go ahead with maintenance as planned, according to four oil traders familiar with the production schedules and FGE. Shandong's advisory isn't mandatory and "teapots have the freedom to decide when to carry out maintenance based on their profitability," said Wang Luqing, an analyst at Chinese industry researcher SCI99.
Ten private oil refiners in the province, with a combined processing capacity of over 1 million barrels per day, planned to shut all their units for maintenance at some point during the government's blockout period, with nine of them aiming for outages in the second quarter, according to SCI99. Only one teapot has rescheduled to comply with the authority's request, said the traders, who asked not to be named as they aren't authorized to speak publicly.