The U.S. economy probably notched up another bumper month of hiring in April, tallying with other reports that suggest growth momentum is building in the wake of the coronavirus crisis. Payrolls may have risen by 978,000, according to the median estimate of economists, above the 916,000 gain in March, while unemployment is seen falling below 6%. The Labor Department report on Friday will wrap up another busy week of data that also includes April surveys of manufacturers and service providers.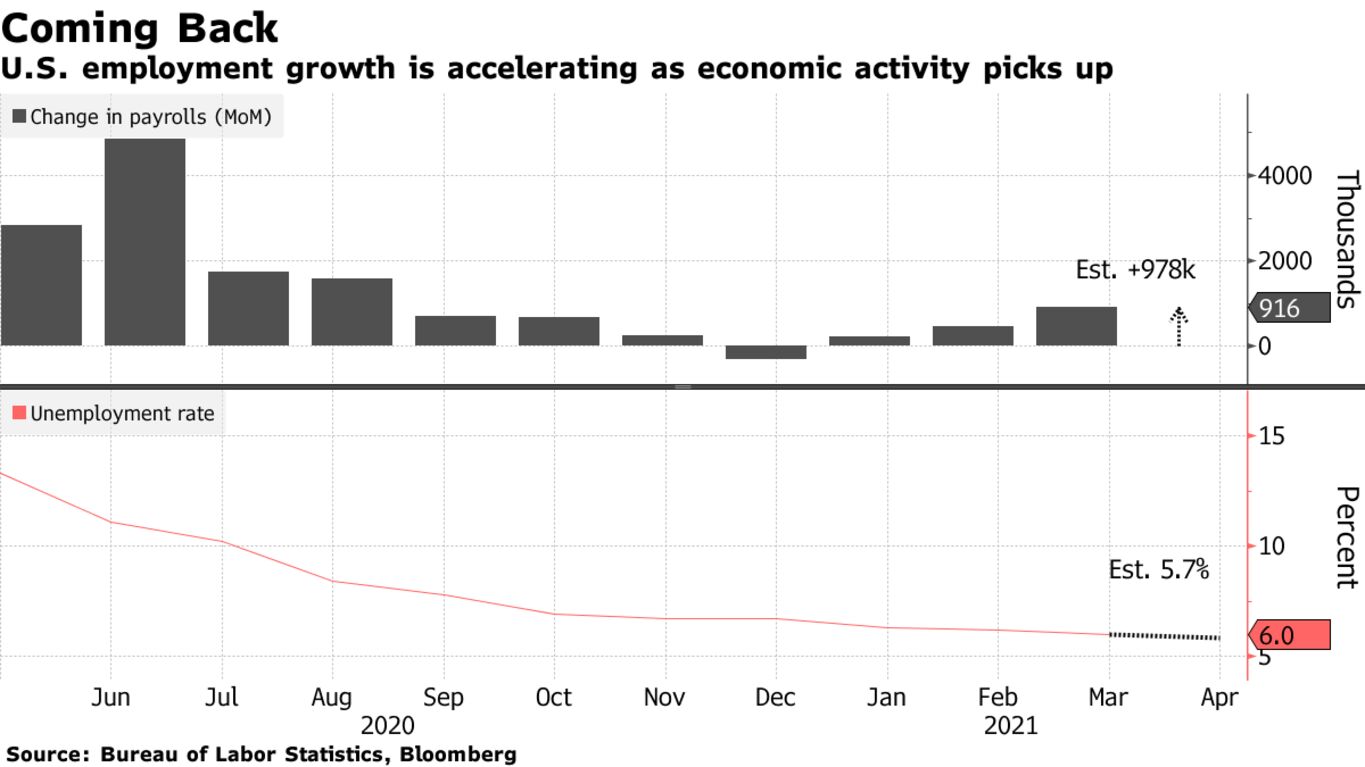 Covid-19 vaccination rates continue to climb, while the Biden administration is eager to keep the federal spending spigots wide open to add more fuel to the economic recovery. Last week, the government said the economy expanded at an annualized 6.4% in the first quarter, spurred by the second-fastest rate of household spending since the 1960s.
Even with an almost 1 million increase in April employment, payrolls will be about 7 million shy of their pre-pandemic level, a reason Federal Reserve policy makers kept their benchmark interest rate near zero at last week's meeting.
What Bloomberg Economics Says:

"The 'jobs deficit' relative to pre-pandemic levels remains roughly as wide as it was coming out of the recession of 2007-09. For this reason, Powell has expressed the desire to see a 'string' of jobs reports similar to March to feel confident that the economy is on a durable trajectory. An April gain in the vicinity of 1 million is a start, to be sure, but far short of what centrists on the FOMC might consider a 'string.'"

–Carl Riccadonna, Yelena Shulyatyeva and Andrew Husby. For full analysis, click here
Elsewhere, central bank decisions in Brazil, Turkey and the U.K. will be among the highlights of the week. Canada also publishes its April jobs report.