Petroleos Mexicanos is racking up millions of dollars in late payments to oil companies as it struggles to generate cash amid skyrocketing debt and weaker crude sales. While Pemex has long sought to stretch its cash further by delaying payments to contractors, people with knowledge of the situation say it's now also deferring reimbursement to some partner companies in an effort to postpone spending money that's in increasingly short supply. Some private oil companies in Mexico sell their barrels to Pemex to mix with its own hydrocarbons for export because they lack the infrastructure and scale to sell the crude on their own, the people said, declining to be identified because they weren't authorized to speak to the media.
Pemex's latest payment woes underscore the deteriorating state of its finances after more than a decade and a half of falling output due to underinvestment. It has had negative free cash flow every year since 2007, data compiled by Bloomberg show, and has amassed $113.9 billion of debt, far more than peers of a similar size or larger.
To be sure, Pemex's bonds are rising amid an oil-market rebound, signaling growing confidence in the company's finances as crude prices climb. The government-owned company has never defaulted on its debt. While deferred payments aren't uncommon among state-owned producers in Latin America, delays in reimbursing partners could erode trust, making it even harder for the producer to stage a recovery, Francisco Monaldi, a lecturer in energy economics at Rice University's Baker Institute for Public Policy, said in a phone interview.
Representatives from Pemex didn't respond to multiple requests for comment by phone and email. Cheiron didn't respond to requests for comment made during the Muslim holy month of Ramadan, when working hours in Egypt are limited.
Pemex owed Hokchi more than $4 million as of April 16 for oil and gas exports sold in December and January from its field by the same name, with the debt owed since mid-March of this year, according to the documents, and people familiar with the situation.
During the term of its contract with Hokchi Energy, "Pemex has made payments corresponding to the volumes of hydrocarbons delivered. Regardless of any specific delay, the relationship developed with Pemex is within the usual commercial terms," Hokchi said in a statement. Hokchi didn't specify whether payments for December and January exports had been made.
A Wintershall spokesman said the company has a "trustful partnership" with Pemex, referring to a joint venture at the onshore Ogarrio field, and work is ongoing to resolve the payment issue. Wintershall is the operator of the field, with a 50% stake.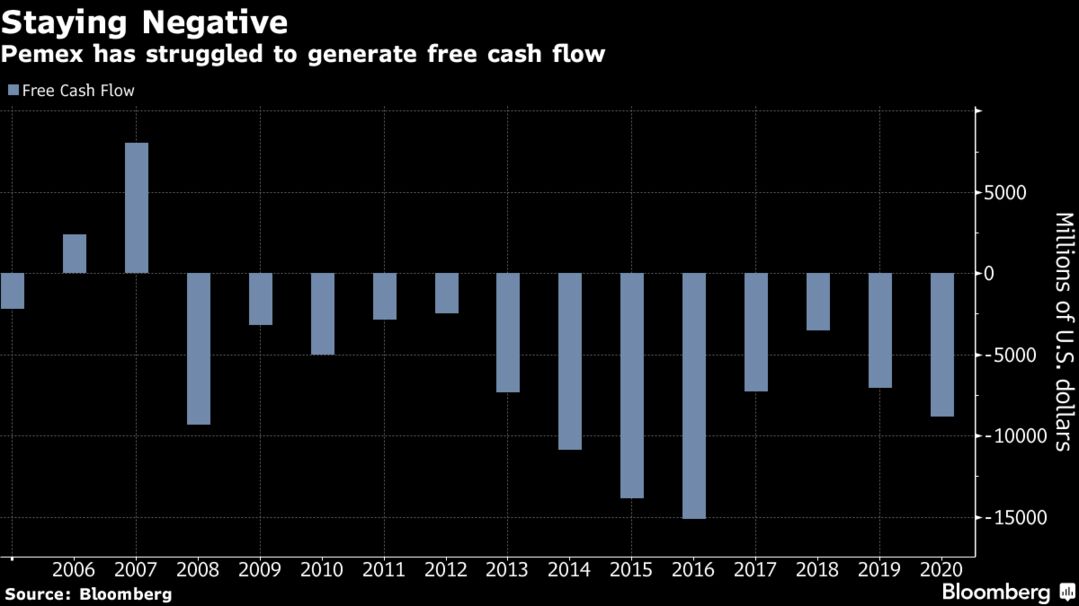 The amount owed to Cheiron and Hokchi is small in the context of Pemex's overall business, with the company reporting $15.6 billion in adjusted revenue in the first quarter. Still, some Cheiron debts have been owed since last year, meaning Pemex is in breach of its crude marketing agreements to pay invoices within 60 days of sale, according to the people, and documents from Cheiron and Pan American Energy seen by Bloomberg.