Oil climbed as optimism over progress in reopening some of the world's largest economies outweighed deepening coronavirus risks elsewhere. Futures rose 1.4% in New York after flipping between gains and losses earlier Monday. A European Union plan to ease restrictions for vaccinated travelers over the summer travel season is boosting sentiment. In the U.S., most capacity restrictions will be lifted in states around the New York region starting later this month. The U.S. dollar also weakened, making commodities priced in the currency more attractive.
"We've likely put the worst of Europe behind us," and "as they turn toward reopening, that will help," said Rob Haworth, senior investment strategist at U.S. Bank Wealth Management. While the recovery in other regions catches up, oil price upside in the near term "hinges on the U.S. reopening story and the return of U.S. demand."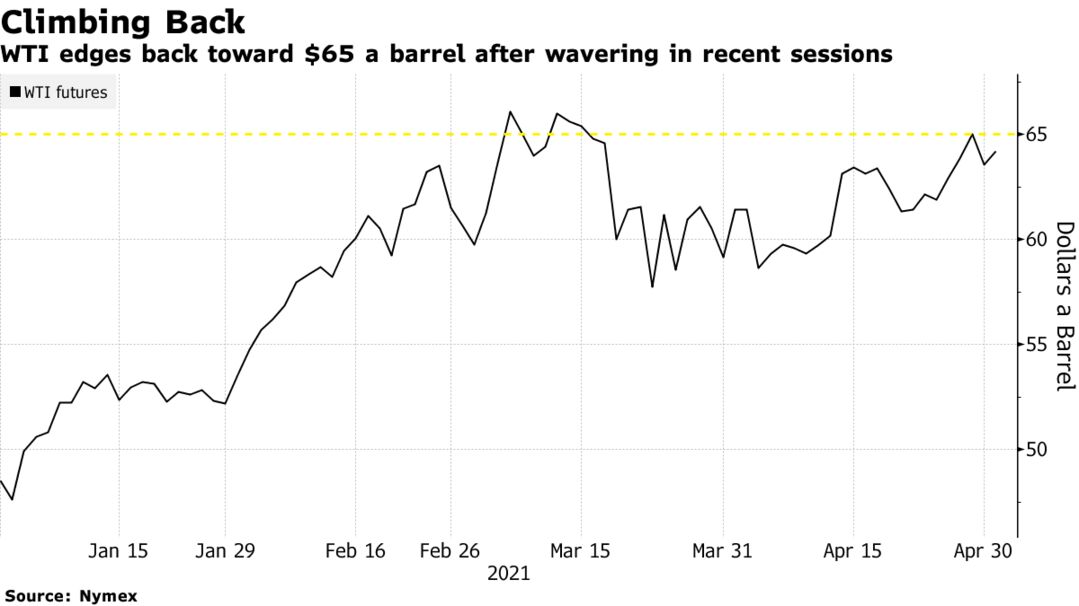 U.S. benchmark crude futures have rallied more than 30% this year, but the market continues to face an uneven global demand recovery as some countries suffer from new waves of coronavirus cases. Sales of gasoline in India were the lowest in April since August, while average daily diesel sales were the lowest since October, preliminary data from officials with direct knowledge of the matter show.