Saudi Aramco's profit soared in the first quarter following a recovery in global oil and gas markets, though free cash flow remained too low to fully cover dividend payments. The world's biggest energy firm kept its quarterly payout, almost all of which goes to the Saudi Arabian government, at $18.75 billion. The money is vital for the kingdom as it tries to narrow a budget deficit that ballooned last year, with the coronavirus pandemic sinking oil prices and shutting down local businesses.
The bumper results follow those last week of Big Oil firms such as Royal Dutch Shell Plc and BP Plc, whose earnings are back to pre-pandemic levels as major economies reopen and more people are vaccinated. Brent crude has gained 31% this year to more than $68 a barrel.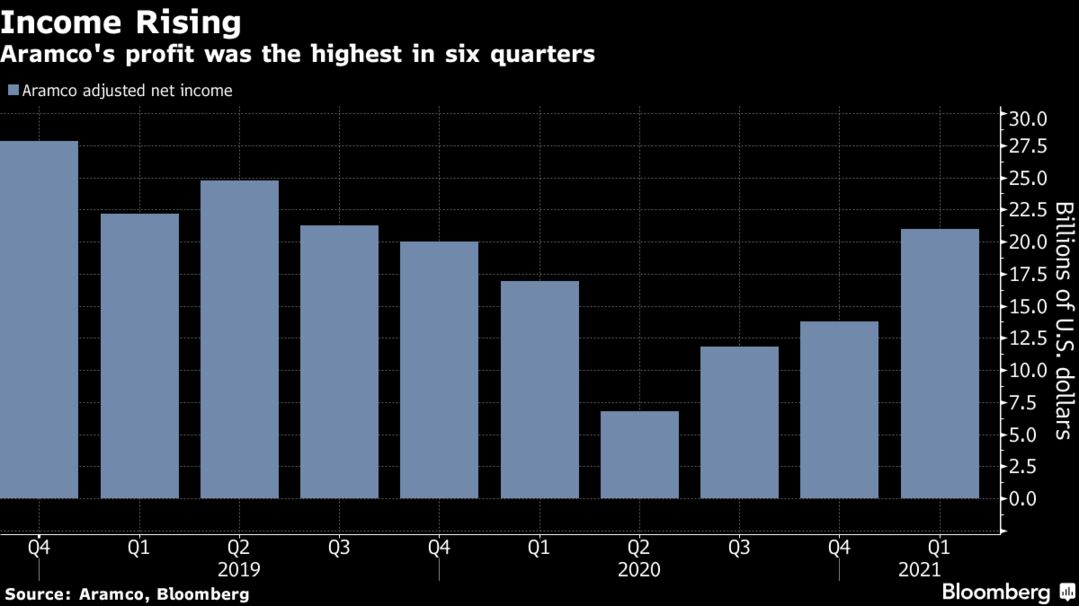 Aramco's adjusted net income for the quarter was 78.6 billion riyals ($21 billion), up 24% year-on-year and higher than analysts' average estimate of roughly $19 billion. Free cash flow was $18.3 billion. The firm expects capital expenditure to be $35 billion in 2021, a figure unchanged from what it said in March.
The company, based in Dhahran in eastern Saudi Arabia, has seen its debt load spike after earnings collapsed with the spread of the pandemic and it opted to maintain the $75 billion annual dividend.
Aramco's downstream business, which now includes contributions from Sabic, swung to a profit as higher commodity prices boosted margins for refined products such as transport fuels and plastics. Earnings before interest and tax for the unit were $4.4 billion, compared to a loss of $5 billion a year earlier.