China's producer prices gained for the first time in a year in January while core consumer prices posted the first decline in a more than a decade, highlighting the economy's unbalanced recovery. Rising commodity costs drove up producer price inflation to 0.3% last month, matching forecasts, the first gain in the index since January 2020, data from the National Bureau of Statistics showed Wednesday. The consumer price index fell 0.3% last month from a year earlier, with the core measure, which strips out volatile food and energy costs, declining by the same magnitude.
The diverging paths of the two inflation measures reflect China's uneven economic recovery from the coronavirus pandemic, with industrial production outpacing consumer spending. Recent virus-related travel restrictions to control new outbreaks of Covid-19 likely intensified that trend in January as consumers further curbed expenditure on services before the Lunar New Year holidays.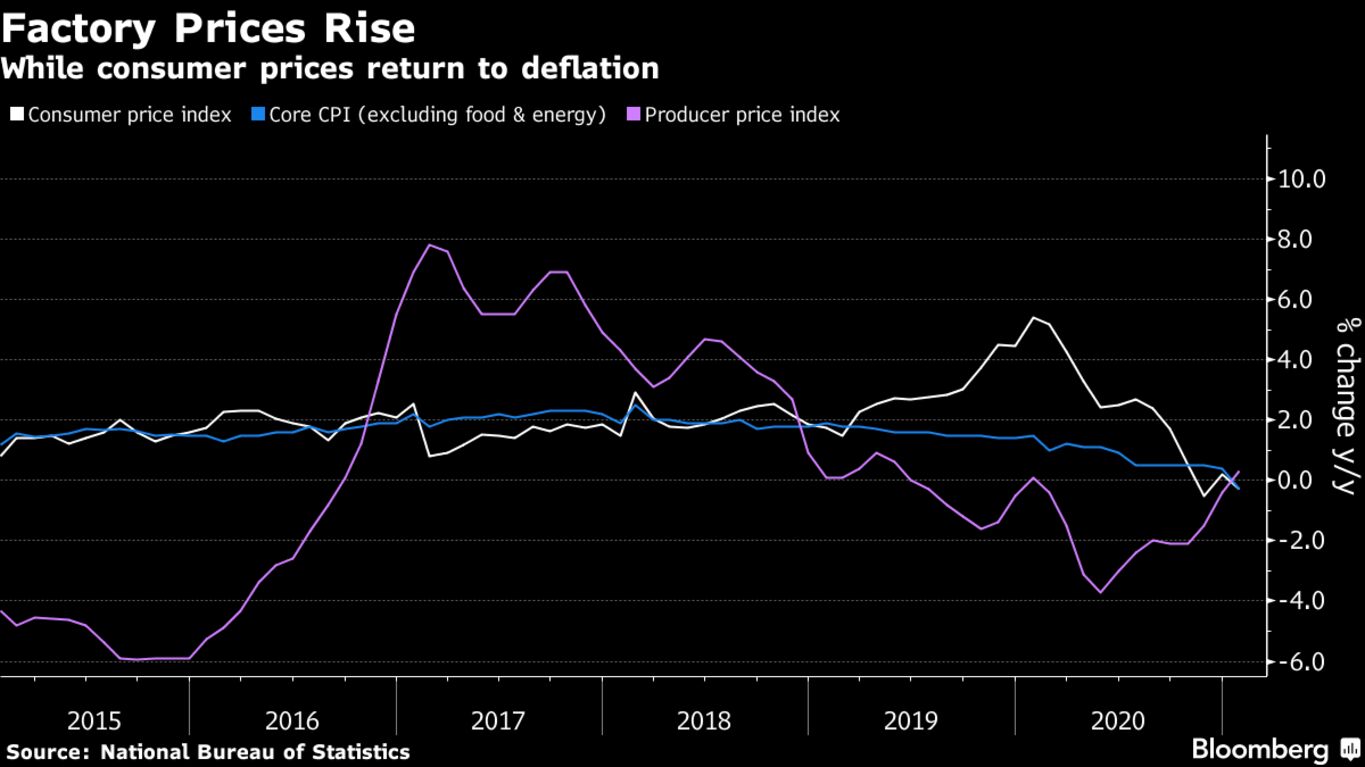 "PPI inflation continues the upward trend, suggesting that the manufacturing sector still outperforms," said Hao Zhou, senior emerging markets economist at Commerzbank AG in Singapore. Consumer inflation momentum hasn't been as strong as expected, and "this split between consumption and manufacturing is likely to persist in the foreseeable future."
A revival in factory gate prices also raises the prospect that China, the world's largest exporter, may soon start exporting inflation to the U.S. and elsewhere. China's PPI has been closely correlated with U.S. headline CPI over the past three years.
Markets from U.S and European bonds to stocks and oil are already signaling
higher inflation expectations
 based on projections that the global economy is bouncing back from the pandemic as fiscal stimulus programs spur demand and the vaccine rollout gathers pace.
Pork Prices
China's weaker consumer price growth in recent months stems largely from base effects due to high pork prices a year ago, when outbreaks of African Swine Fever had cut supplies. Pork prices, a key driver of changes in the CPI, fell 3.9% in January from a year earlier after falling 1.3% in December.
Food price pressures are starting to increase again as cold weather combined with travel restrictions impact the transport of meat and vegetables.
Policy makers will pay more attention to the fall in core prices, which declined for the first time since 2009. That was mainly due to a large drop in service prices, NBS official Dong Lijuan said in a statement. Local governments introduced testing and quarantine requirements to reduce the risk of coronavirus outbreaks in January, causing a steep decline in travel ahead of the holidays.
What Bloomberg Economics Says…

"China's inflation data presented a bad news, good news mix, which — on balance, in our view — probably won't affect the central bank's policy near term."

"A high base was partly to blame for the drop in consumer prices from a year earlier. More concerning was the other factor — sluggish household demand for services due to virus-containment measures in some regions."

— David Qu, China economist

Peiqian Liu, a China economist at Natwest Markets in Singapore, said the data "reinforces the view that the recovery is uneven," implying the central bank will proceed cautiously on its stimulus withdrawal. The People's Bank of China this week reiterated it will seek stability in its policies and avoid any "sharp turns."
Service prices are subject to base effects as the Lunar New Year fell in January last year, resulting in higher prices for services such as flights. The NBS also announced adjustments to the CPI basket, saying it will include food delivery, mother and baby care services, new energy cars and car hailing services into the index.